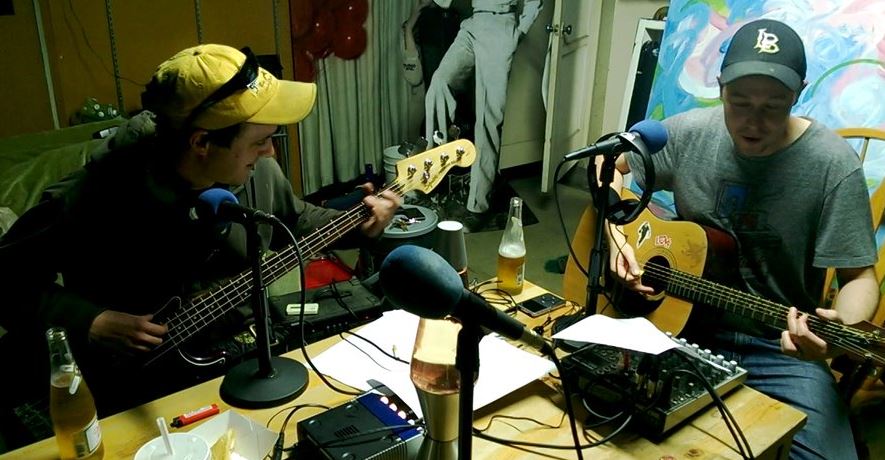 Here are some of the best musical moments from the Far Out! podcast.
"We're Back"(#239)
Tod and Buck sing about their return on the "Far Out! Comeback Special."
Audio clip: Adobe Flash Player (version 9 or above) is required to play this audio clip. Download the latest version here. You also need to have JavaScript enabled in your browser.
"Ob-La-Di Ob-La-Da 2″(#214)
Did Desmond and Molly from The Beatles' classic song really live happy ever after?
Audio clip: Adobe Flash Player (version 9 or above) is required to play this audio clip. Download the latest version here. You also need to have JavaScript enabled in your browser.
"Yellow Submarine 2″(#214)
The gang sings a song that finishes the story of The Beatles' voyage on a Yellow Submarine.
Audio clip: Adobe Flash Player (version 9 or above) is required to play this audio clip. Download the latest version here. You also need to have JavaScript enabled in your browser.
"Penny Lane 2″(#214)
Tod sings a song speculating what happened to the street made famous by The Beatles.
Audio clip: Adobe Flash Player (version 9 or above) is required to play this audio clip. Download the latest version here. You also need to have JavaScript enabled in your browser.
"I'm a Freak (Every Day of the Week)"(#204)
Tod, Buck and Elliott make a little R. Kelly-inspired soul music.
Audio clip: Adobe Flash Player (version 9 or above) is required to play this audio clip. Download the latest version here. You also need to have JavaScript enabled in your browser.
"Give it Up for Africa"(#192)
Tod wrote a benefit song to help solicit donations to help the African village of Endugo.
Audio clip: Adobe Flash Player (version 9 or above) is required to play this audio clip. Download the latest version here. You also need to have JavaScript enabled in your browser.
"Thoughts from a Hairless Head"(#184)
Tod laments the many stages of male pattern baldness.
Audio clip: Adobe Flash Player (version 9 or above) is required to play this audio clip. Download the latest version here. You also need to have JavaScript enabled in your browser.
"Cocainus"(#176)
Every drug and method of ingesting said drug needs a song. Tod and Buck wrote a song to help popularize rectally ingesting stimulants.
Audio clip: Adobe Flash Player (version 9 or above) is required to play this audio clip. Download the latest version here. You also need to have JavaScript enabled in your browser.
"Oh No, It's Herpes"(#166)
Tod and Buck perform this song to help spread awareness about the "gift that keeps on giving."
Audio clip: Adobe Flash Player (version 9 or above) is required to play this audio clip. Download the latest version here. You also need to have JavaScript enabled in your browser.
"Oh Sh*t, It's Christmas Part 2″(#159)
Tod, Buck and Elliott sing the sequel to their Christmas classic.
Audio clip: Adobe Flash Player (version 9 or above) is required to play this audio clip. Download the latest version here. You also need to have JavaScript enabled in your browser.
"Oh Shit It's Channukah" (#155)
Coming soon…
"The Furry Murray Rap"(#150)
Tod raps, Buck scratches and Oscar beat boxes in this impromptu ode to Mr. Perry's dog.
Audio clip: Adobe Flash Player (version 9 or above) is required to play this audio clip. Download the latest version here. You also need to have JavaScript enabled in your browser.
The Colt Magnum Album (#138)
The following are some songs wrote for his alter-ego "alternative" country singer, Colt Magnum.
"Colt Magnum – Texas"
Audio clip: Adobe Flash Player (version 9 or above) is required to play this audio clip. Download the latest version here. You also need to have JavaScript enabled in your browser.
"Colt Magnum – Chaps"
Audio clip: Adobe Flash Player (version 9 or above) is required to play this audio clip. Download the latest version here. You also need to have JavaScript enabled in your browser.
"Colt Magnum – Everything is Bigger (in Texas)"
Audio clip: Adobe Flash Player (version 9 or above) is required to play this audio clip. Download the latest version here. You also need to have JavaScript enabled in your browser.
"Lakewood is a Good City" (#134)
Tod was commissioned to write a theme song for Lakewood, Ca for the Los Coyotes Olympics.
Audio clip: Adobe Flash Player (version 9 or above) is required to play this audio clip. Download the latest version here. You also need to have JavaScript enabled in your browser.
"Lakewood (The Time of Your Life)"(#134)
Tod's second attempt at writing a theme song for the city of Lakewood.
Audio clip: Adobe Flash Player (version 9 or above) is required to play this audio clip. Download the latest version here. You also need to have JavaScript enabled in your browser.
"Largest Leprechaun I Ever Saw "(#108)
Why you shouldn't fight the Irish on St. Patty's Day.
Audio clip: Adobe Flash Player (version 9 or above) is required to play this audio clip. Download the latest version here. You also need to have JavaScript enabled in your browser.
"Bad Day" (#99)
The terrible day Tod documented in his diary back in 1992 might actually be the exact day that Ice Cube rapped about in his classic jam "Good Day." So, Tod re-wrote Ice Cube's classic to reflect on his not-so good day.
Audio clip: Adobe Flash Player (version 9 or above) is required to play this audio clip. Download the latest version here. You also need to have JavaScript enabled in your browser.
"Oh Shit, It's Christmas" (#89)
Christmas is not without its faults.
Audio clip: Adobe Flash Player (version 9 or above) is required to play this audio clip. Download the latest version here. You also need to have JavaScript enabled in your browser.
"Occupy Lakewood" (#86)
Tod, accompanied by his congo player Tariq, debuts his spoken-word poem at the Occupy Lakewood protest.
Audio clip: Adobe Flash Player (version 9 or above) is required to play this audio clip. Download the latest version here. You also need to have JavaScript enabled in your browser.
"Politics on Facebook" (#71)
Tod's take on folks who fight about politics on social networking sites.
Audio clip: Adobe Flash Player (version 9 or above) is required to play this audio clip. Download the latest version here. You also need to have JavaScript enabled in your browser.
"It's Been a Good Year" (#50 pt. 1)
Tod, Buck and Elliott drop a few rhymes on the best and worst moments of Far Out! Season One.
Audio clip: Adobe Flash Player (version 9 or above) is required to play this audio clip. Download the latest version here. You also need to have JavaScript enabled in your browser.
"I Like Turtles" (#??)
Title pretty much sums it up.
Audio clip: Adobe Flash Player (version 9 or above) is required to play this audio clip. Download the latest version here. You also need to have JavaScript enabled in your browser.
"Doo Doo Balloon (The Butt Hash Song)" (#27)
Tod sings a song detailing his entry into the dark, dark world of butt hash addiction.
Audio clip: Adobe Flash Player (version 9 or above) is required to play this audio clip. Download the latest version here. You also need to have JavaScript enabled in your browser.
"Boxing Day" (#23)
Tod's confused ode to the Canadian holiday sung to a familiar melody.
Audio clip: Adobe Flash Player (version 9 or above) is required to play this audio clip. Download the latest version here. You also need to have JavaScript enabled in your browser.
"The Visitors — "Earthling Bitch in Iowa" (#13)
The gang debuts a love song from a alien group known as The Visitors.
Audio clip: Adobe Flash Player (version 9 or above) is required to play this audio clip. Download the latest version here. You also need to have JavaScript enabled in your browser.
"Semi" (#3)
Tod's ode to the Victoria's secret Catalog.
Audio clip: Adobe Flash Player (version 9 or above) is required to play this audio clip. Download the latest version here. You also need to have JavaScript enabled in your browser.
UNRELEASED STUFF
"Give it Up for Africa (Outtakes)" (#192)
Audio clip: Adobe Flash Player (version 9 or above) is required to play this audio clip. Download the latest version here. You also need to have JavaScript enabled in your browser.